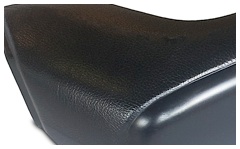 The flexible polyurethane foam with integral skin is characterized by a compact skin leather-like . This surface is pleasant to the touch, is wear-resistant and chemical-resistant. This is a skin formed of closed cells which , while being flexible , is extremely resistant to ripping. Polyurethane integral skin foam is designed for the manufacture of linings , protections , paddings in many fields of application and offers serious advantages :
– Economic implementation ,
– Low weight,
– Greater freedom in the design of forms ,
– Permanently elastic ,
– No corrosion ,
– Possibilities for coloring and painting ,
– Adjustable hardness,
– Fitness for use in a temperature range extensive .
Applications:
The polyurethane integral skin is designed for the manufacture of protective padding in numbers of fields of application. It is prized for its aesthetic appearance, long life and good price.
Application areas :


Automobile , Weapon , Furniture, Office Furniture , Medical, Dental , Health , sophisticated packaging , POS, Look , Dress , Comfort, Hygiene , Protection, Rigging .