The rigid polyurethane foam integral skin is characterized by a thick skin and a micro cellular core . The sandwich structure thus obtained can meet high mechanical requirements by offering the best compromise between rigidity and weight.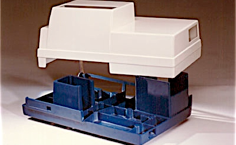 This product allows to create complex pieces of different thicknesses avoiding cavities. It is characterized by a massive skin and a micro cell nucleus , which offers the best relation between the rigidity and stability of the weight . The rigid integral skin polyurethane foam is designed to produce technical parts , and offers significant advantages:
– Greater freedom in the design of forms ,
– Multiple variants of design and structure ,
– High level of profitability ,
– Possibilities for coloring and for painting ,
– Adjustable hardness,
– Fitness for use in a temperature range extensive .

Applications :
The rigid polyurethane integral skin is perfectly suited to the manufacture of medium-sized pieces and small series . It serves in particular to make cowlings.
Application areas :
Automobile , Weapon , POS, Office , Computer , Medical, Ceramics , Boating, Cowling , Insulation, Buoyancy, decoration , advertising stand , Rigging , Filling, Packaging .
Physical properties :


The injected foam density of 400-700 Kg / m3. That can vary depending on the application , parts dimensions and conditions of implementation.